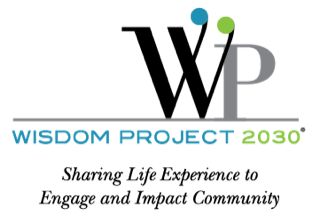 Author and theologian Frederick Buechner describes vocation as "the place where our deep gladness meets the world's deep need." Through the years, staying true to his words have been an important guide and source of integrity in my professional life – listening to that intersection of what brings joy with what deep needs exist in the world around me. His description comes to mind often when I think of the work of our team, members of our Board, our Volunteer Advocates, our donors.
How fortunate to be introduced to and begin a unique collaboration with another community group who shares in these same values – the Wisdom Project 2030. Wisdom Project began as a Vision 2030 initiative, a community project sponsored by the Greater Hall Chamber of Commerce, in 2005 with the idea to prepare individuals age 55 and older to use their wisdom, experience, and talents in creative ways through action and advocacy. Wisdom Project 2030 captures the wisdom of Hall County residents 55 and older for the good of our community.
The timing could not have been better for the needs of our program. Beginning in 2016, our program and CASA programs across the state responded to a staggering increase in the number of children entering foster care. By October 2016, the Hall-Dawson CASA program no longer had the capacity to serve 100% of the children in need of our advocacy services, a measure by which our CASA program was long celebrated and applauded at the local, state and national level. Simultaneously to increase demand, long-time grantors and funders began increasing organizational and reporting requirements. The retirement of the 30-year beloved Executive Director leader (who was in the initial CASA training class 32 years ago) coincided the implementation of a case-management database to better capture and report data. Along with a new Executive Director, an Advocacy Director position was created in 2018 to bolster our training and advocacy efforts. As is expected with leadership transitions, staffing changes, and new requirements, many CASA volunteers wound down their CASA volunteer service and advocacy in light of the changes in technology, reporting requirements, and in leadership. In 2018, 132 CASA volunteers were active with our program, but in 2019 that number dropped to 105. Though we served nearly the same number of foster children in 2018 and 2019, the percentage of children served dropped from 79% in 2018 to 70% in 2019 because the increasing demand (12% increase in children entering foster care) outmatched volunteer capacity.
The Hall-Dawson CASA program introduction to Wisdom Project 2030 began with that initial call from Wisdom Keeper, Roy Smith and his desire to help our program identify potential CASA Volunteers and to successfully recruit more. Mr. Smith's understanding of our work is clearly articulated in his vision for partnership, "I work on the CASA Project because children entering foster care already have a strike or two against them, through no fault of their own. Helping find new volunteers to become that "voice" on behalf of these children is the best way I know of to remove one of those strikes."
With the guidance of Mr. Smith and his colleagues at Wisdom Project 2030, the Hall-Dawson CASA program developed a strategic growth plan. This process began with a half-day brainstorming session with key community leaders including a Juvenile Court Judge, CASA volunteers and staff, local business and nonprofit leaders, local government officials, and child welfare stakeholders. The outcomes included 130 volunteer recruitment ideas were organized into 15 clusters, developed into specific and detailed action plans. These action plans included barriers, key people to involve, and first steps; the development of job description and hiring of a full-time Volunteer Recruitment and Training Coordinator to focus on implementation of the Growth Plan; and renewed energy and excitement with the existing staff, board, stakeholders, and current CASA volunteers about our future. The potential growth of the organization is ultimately focused on serving 100% of the children impacted by foster care in our community.
Today, as we continue to work through the objectives of our Strategic Growth Plan, I want to pause and say thank you to Roy Smith and all those at Wisdom Project 2030 who dare to go where their imaginations and talent lead them to make our community a better place to live, especially for the children we serve.
To find out more about Wisdom Project 2030, CLICK HERE to view the Wisdom Project 2030 YouTube video.