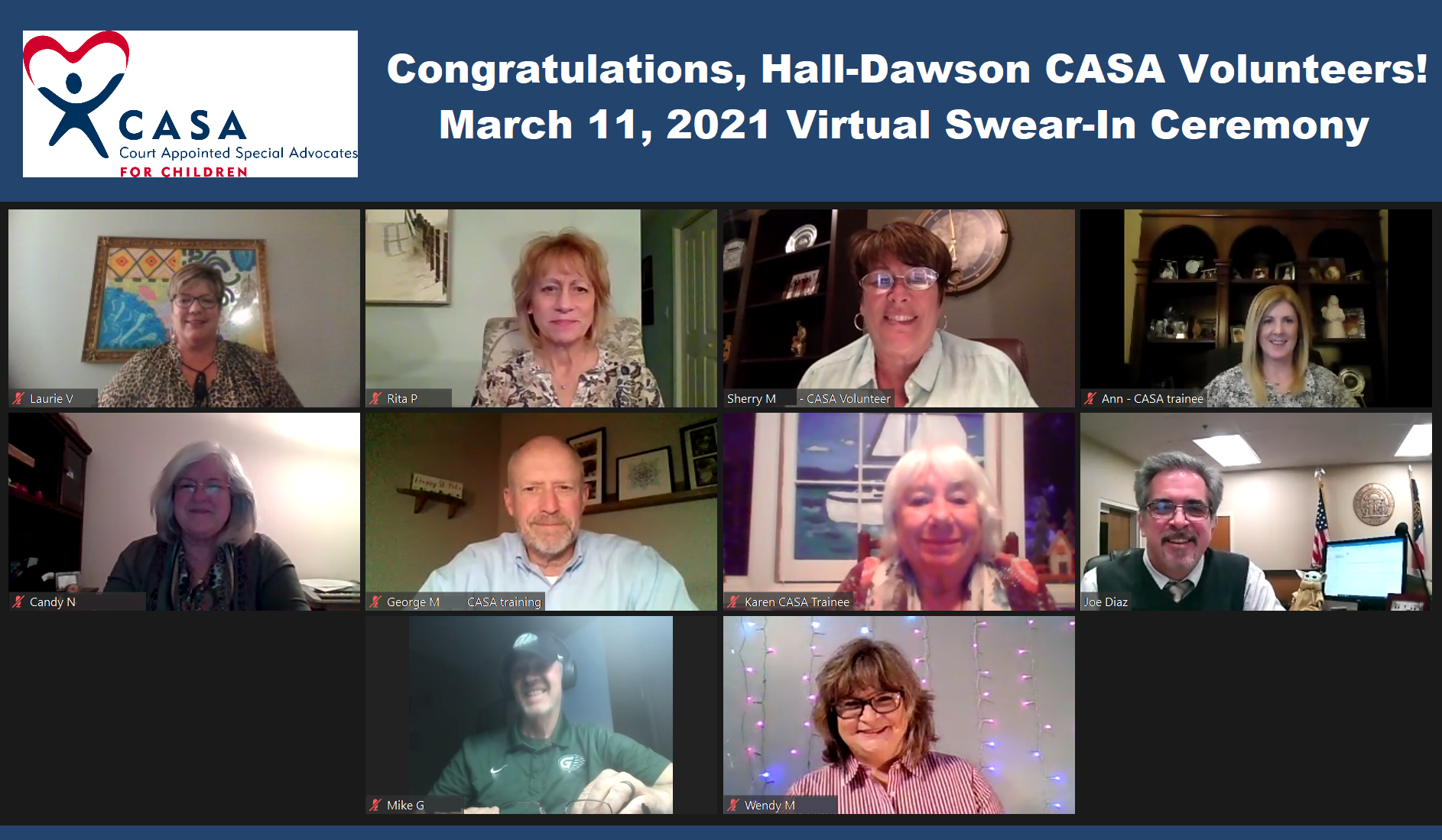 Last Thursday evening, we celebrated the Swearing-In of nine new CASA Volunteers to the Hall-Dawson CASA family! For those reading this blog who are not aware, this is a tremendous commitment, journey, and milestone all represented in this one event. This ceremony, held a few times per year, marks the completion of the training journey for new CASA Volunteers. Once training is completed the CASA Volunteers are able to start the real work of advocating and making a difference in the life of a child. But let's take a step back for a moment to hear more about this training commitment and journey. 
Committing to become a CASA Volunteer is not a small endeavor. The initial training (called Pre-Service) consists of 40 hours of intense classes, online assignments, and court observations. The training covers many topics including the CASA role specifics, how trauma affects children and adults, substance abuse, domestic violence, mental health, cultural competency, LGBTQ+ and unique groups, and other topics related to child welfare and wellbeing. These topical deep-dives are vital to the role a CASA Volunteer will fulfil in the life of a child, children, and family. Training is not something the CASA network takes lightly, because this volunteer position can be challenging and really hard. It can be difficult to see and hear of the heartache and pain which led to the abuse or neglect of a child, and the pain that child is experiencing. It can be hard to refocus our emotions and stay objective when deciding what a child needs in a particular moment in time. It can be hard. But this is what our CASA Volunteers do every day. They stay for the smiles and the realization of making a difference. They stay for the calling on their heart, sometimes spiritual or religious, to change the world one person at a time. They stay because every child matters.  
Training matters because every child matters. 
We are all committed to holding a high standard for those we allow to call themselves a CASA Volunteer. When the initial training is completed, the new volunteers take an Oath swearing to fulfil the duties as expected and meticulously outlined. Our CASA program is not afraid to say that this "volunteer gig" is not for everyone, and definitely not for the faint of heart. It is, however, for those who have heart –  a big heart, actually, and want to make a difference. There is always room for one more big heart, and more specifically, we need at least 30 more big hearts to commit to becoming a CASA Volunteer in 2021. There are three more Pre-Service training classes scheduled for 2021, and we have room for you. Do you have room in your big heart to make a difference in one child's life?