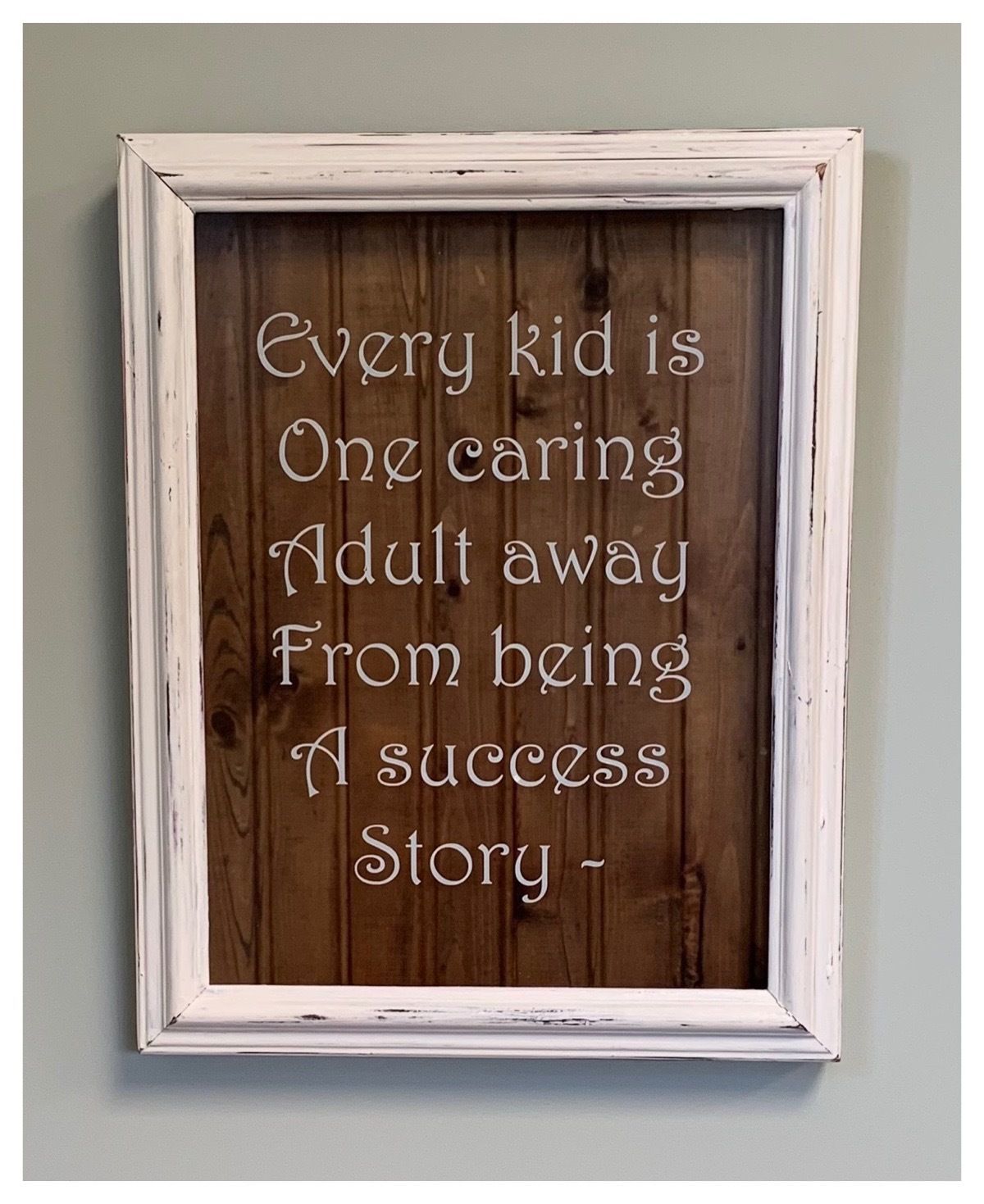 April is National Child Abuse Prevention Month, serving as a reminder of the importance of communities working together to help families thrive and prevent child maltreatment. As I look ahead to April and contemplate the question of just how we prevent child abuse, this framed piece of art on my wall is the best answer I have.  Nearly a dozen years in this work and I can honestly say I do not know how to prevent child abuse. I do know that children who have caring, consistent adults in their lives are less likely to be abused.  
"Every kid is one caring adult away from being a success." These are the very words that guide me in my child welfare work, and in my life. In March 2015, Harvard University's Center on the Developing Child affirmed this releasing a study saying, "Every child who winds up doing well has had at least one stable and committed relationship with a supportive adult."  But long before I found that framed piece or had heard of this study, I had been noticing the same thing. As one who loves conversation and coffee, I have had the privilege to be invited into the stories of others. While listening to those stories, a common theme emerged. For every childhood story, there was a hero in the story of the now adult. At least one person made the difference for that child in their future success. It was a coach, a girl scout leader, a foster parent, a teacher, someone who was experienced as consistent, caring. Someone that child counted on, and someone the adult, looking back over time, attributed to their success. 
For many of us, we have been fortunate to have had many such heroes who have helped shape our lives. Who was that hero for you? I had a seventh grade reading teacher, Mrs. Martin, who opened the world for me. At the time, I was a rather shy kid who had already noticed I did not see the world as others did, my brain just did not seem to function the same as my peers. Mrs. Martin was the first to understand and appreciate the differences, and what until then I had only suspected. I was actually smart; I just had trouble getting what I knew on paper. She identified I was especially good at getting to the heart of the matter, but not necessarily good at being able to fill in the details. She saw it and she helped me translate it. She helped me understand "different" does not mean wrong or bad. In doing so, she taught me to be bold, in her words, "to cast my fishing line way out, to celebrate hooking that big fish, and then work my way backwards as I reeled it in. To ask questions, to fill in the details for others to see what you see." She instilled in me a love of reading, for writing, and for Hemmingway's Old Man and the Sea.  More importantly, she gave me the blueprint that helped me be successful in school, and in life. 
Every kid is one caring adult away from being a success. This is the very work of CASA. Caring adults who advocate for the best interest of a child who is experiencing foster care. Caring adults who become a consistent, caring presence in the life of a vulnerable child and help that child build connections with other consistent, caring adults. Children who thrive and become successful adults. 
As April emerges, my thoughts will be on Child Abuse Prevention from a different perspective. I will think about the heroes who have made a difference in my life. The heroes who have emerged in the stories over coffee. The heroes we call CASA Volunteers. The teachers, the scout leaders, the foster parents, the mentors and so many others. The everyday heroes who choose to be the difference for a child.