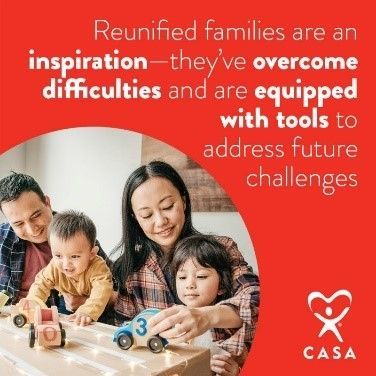 National Reunification Month is recognized in June of each year to celebrate the families who have overcome obstacles in order to provide a safe and loving home for their children, and are able to reunify after their child was placed in the child welfare system. So far this year, with the advocacy efforts of our CASA Volunteers, 23 children have successfully reunified with their families and 3 children were able to remain with their families while receiving support from a CASA Volunteer. 
"Reunification" in the child welfare world can be a difficult concept to understand, support and many have an initial gut resistance to bringing families back together. I have been asked on numerous occasions, "Why would you want to place a child back into a home they experienced harm or neglect?" Or "why can't the child stay with the foster parents who can give the child a better life." The answers are not as simple as it may seem.
You will often hear me say, there is nothing quite like a CASA Volunteer. CASA Volunteers are not typical volunteers, and we know this. Advocating for children who have experienced abuse or neglect is not a typical volunteer opportunity. Our CASA volunteers are incredible in many, many ways. One of those important ways is their ability (with training and support) to see past the obvious flaws of the parents and caregivers, choosing a resource lens to see strengths that can be built upon, and to see the dignity and worth of every human being they encounter. I often remember the words of Juvenile Court Judge Russell J. Jackson, one of my early child welfare mentors, who stated "children don't want better families, they want their families better."  Not only does research show children, when safely possible, do better in their families of origin, the law and our National CASA Guiding Principles guide and dictate this practice.
Earlier this year we celebrated as mother and sons were reunified. The court case began more than two years earlier, and on paper things did not look good. A mom struggling with addiction. Children who were once good students were now struggling in a new school and beginning to show signs of depression. Fortunately, a community of support surrounded this family in the midst of the chaos. Family Treatment Court was embraced by mom and treatment for her addiction became her priority. The foster parents partnered well and provided support. And CASA was consistent in the lives of the children, even as case managers, schools and attorneys changed throughout the two years of the Juvenile Court case. Even in the midst of the pandemic, the CASA was able to monitor the language progression and milestones of the youngest child on video, have meaningful interaction with the older children on video and in telephone conversations, and bring the needs and concerns of the children to the court's attention. The CASA was also a cheerleader for mom, especially in front of the older children so they could be encouraged by their mom's progress.
So often the balloons, the cute signs, cake, and celebrations accompany the adoption of a child, and there is little fanfare when a child is reunified with his/her family. We should celebrate every time a child achieves permanency after their placement in the child welfare system – through adoption, guardianship, AND reunification. I am thankful for June's National Reunification Month, a time to celebrate families and bring awareness to the strength of parents who overcome obstacles, break generational cycles, and are able to provide a safe and loving home for their children. I am thankful for foster parents, service providers, child welfare attorneys, DFCS social workers, Juvenile Court Judges and CASA Volunteers who actively and intentionally work with families during their difficult journey.