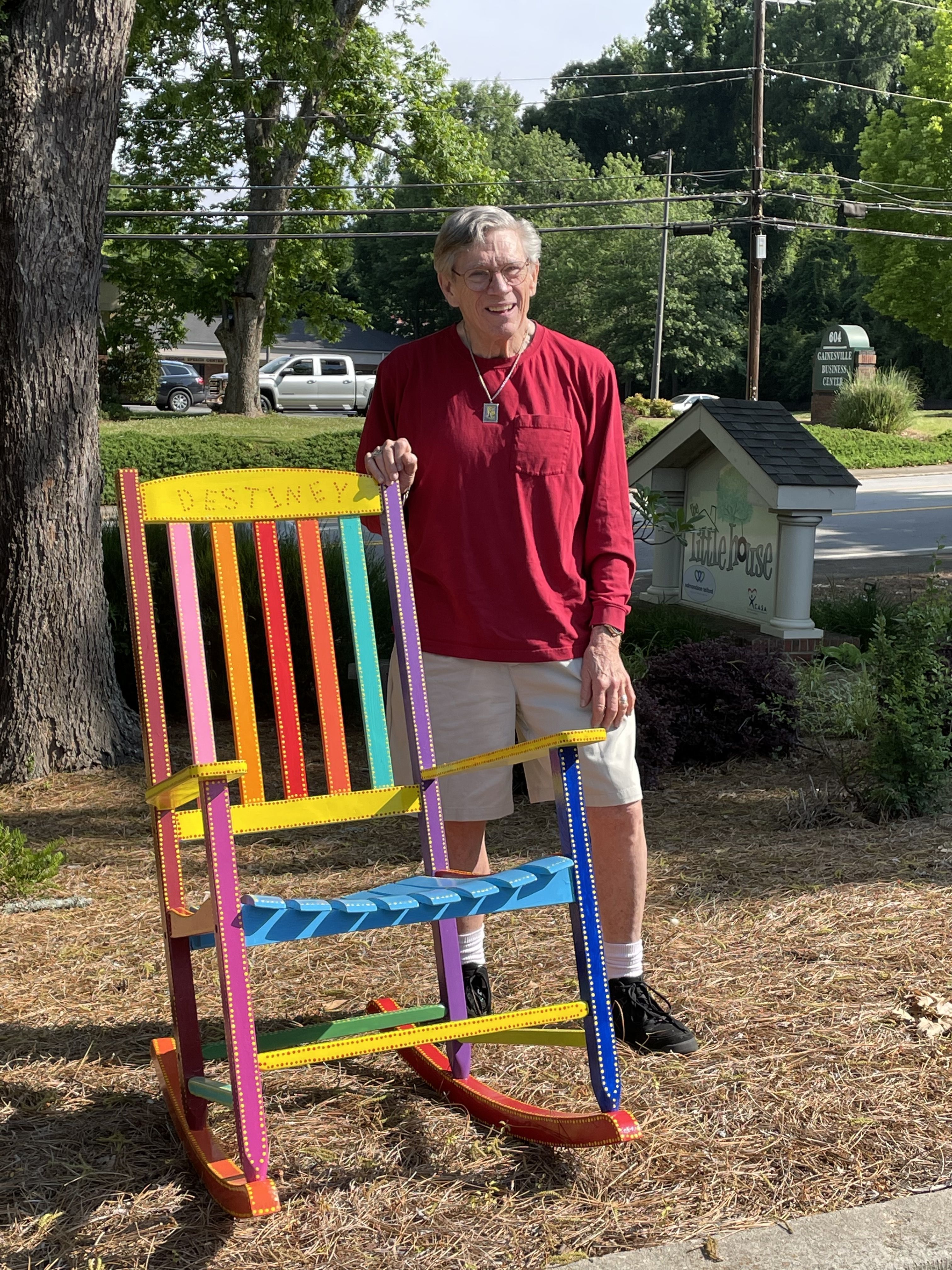 John Siegel's legacy began 25 years ago with the creation of a colorful rocking chair for his first grandchild. Thirteen years ago, when he "ran out of grandchildren" after 21 of them came along, he began looking beyond his family for other children who might enjoy one of his colorful creations. John created chairs for children in every Head Start in Rabun, Habersham and Hall counties, donating to over 70 different charitable groups over the years. Then someone at his church introduced him to CASA (Court Appointed Special Advocates); it was a match made in heaven. For 25 years now, he has painted and delivered a masterpiece for children served by Northeast Georgia CASA and Hall-Dawson CASA who are celebrating adoption.
John has now painted 825 chairs, his expression of love and support for hundreds of children. The chairs are lovingly painted with 24 bright colors and thousands of dots – his signature style. He numbers and signs each chair "Granddaddy John", and personalizes it with the child's name. He says after the first chair he painted, he began thinking about children who may not have a grandpa or anyone else in their life who could or would give them such a gift. So he started sharing his chairs – his works of art -- and he just keeps painting and giving away.
John tells me that he spent his career in the wholesale floor covering business, and that he and his husband began, many years ago, setting aside money to fund non-profit work and projects they would want to support in their retirement years. Their planning to make a difference later in life has brought much joy to the children who receive these chairs at a time of transition and celebration in their lives – and John's gift certainly adds to the joy.
This is John's legacy. He has spent much of his life giving away his talent, time and resources to children whose faces he would never see. The happiness his chairs give to the children who receive them brings joy to John's heart – he says the gift is his.
What will be your legacy? Hopefully we are all finding ways to share our time, talents and resources to impact lives for the future. Whether we are painting a piece of furniture to give away; volunteering as an advocate a child; or leaving a gift in our estate plan, we can all make a difference in the life and future of someone else.
Would you join Hall-Dawson CASA in the work of serving children in foster care because of neglect or abuse? Will you consider serving as a volunteer advocate for some of these children – the most vulnerable among us? Will you support our work financially, to enable others to advocate in the court room and in our community for the best interest of our children? Call us today at 770-531-1964 and let's explore together how Hall-Dawson CASA can be a part of your legacy.