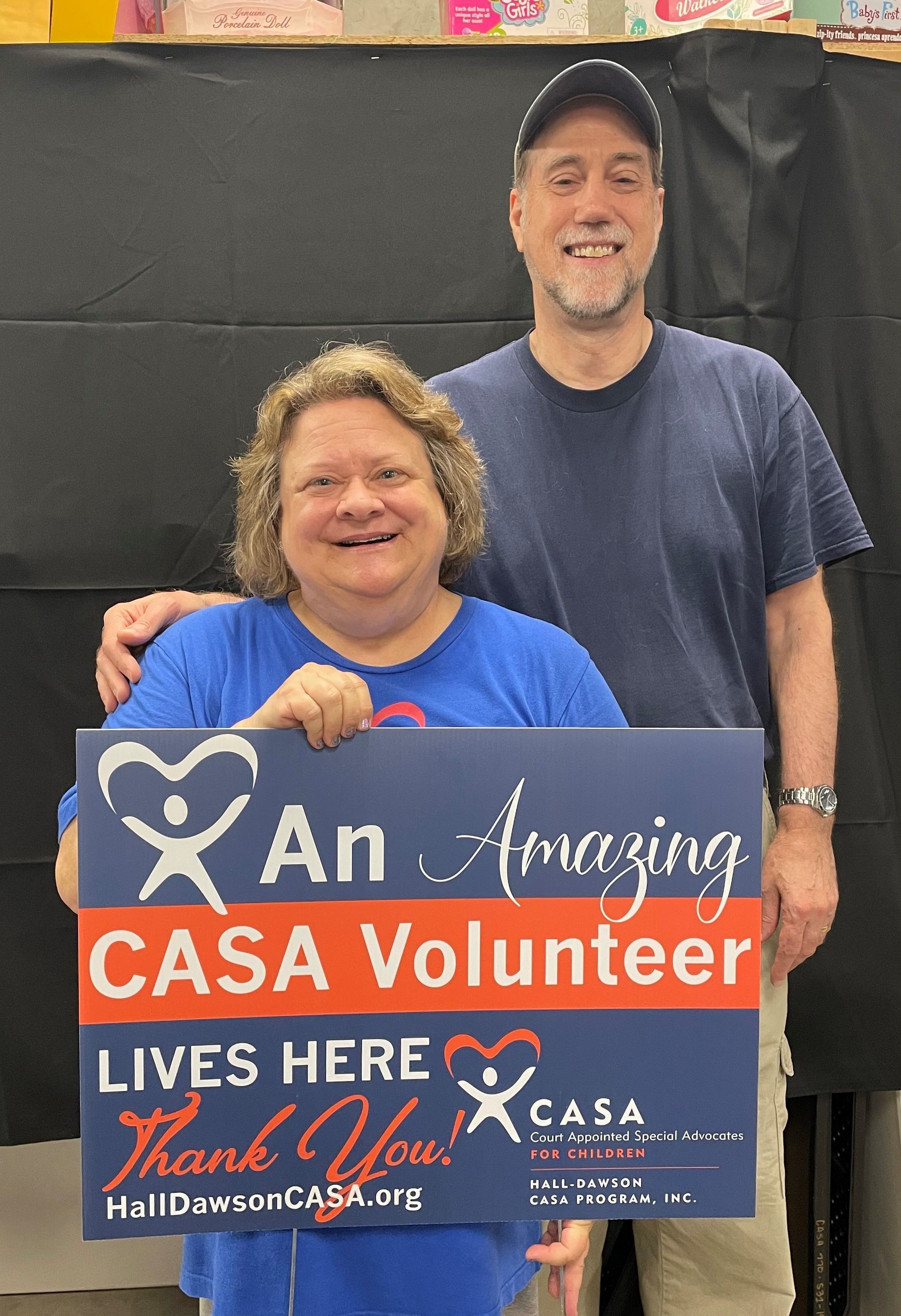 Each year, Georgia CASA accepts nominations for the Karen N. Sibley Volunteer of the Year Award from all affiliates in Georgia. This award recognizes an outstanding CASA volunteer who has made significant contributions in helping children who have experienced abuse or neglect.
Congratulations to Robbie McCormac, the Hall-Dawson CASA Program Volunteer of the Year! Robbie has been a CASA since 2014. During that time, she has served 28 cases with a total of 55 children.
Robbie is an exemplary CASA volunteer. She is mindful of all her requirements, collaborates well with DFCS and others, partners with biological parents, and advocates fiercely for the children she serves. Robbie understands her role as advocating for the child, but has often become "a mentor for our parents who need a caring adult in their lives to help them navigate parenthood," according to Marisa Sullens, the Coordinator of Hall County Family Treatment Court. The CASA training curriculum emphasizes the needs of every child and family are different based on culture, trauma, experiences, and many other factors. Ms. Sullens continues, Robbie "approaches each case with a different approach because not every family needs the same thing."
Robbie has numerous strengths and skills, but Judge Alison Toller believes "her biggest strength is her problem solving!" Further, Judge Lindsay Burton "appreciate[s her] advocacy because she will take cases that so many others will not" and gave a specific example that Robbie  "provided information to the Court that no other party presented." Robbie is an incredible human being who is "fiercely independent, tenacious, caring, giving, thoughtful, kind, insightful, and has a gracious heart" according to Ms. Sullens. Both Family Treatment Court and Judge Burton have specifically requested Robbie to be the CASA on particular cases "because we know what an impact she will have on the family."
Judge Burton shared a specific success story of the last youth Robbie worked with who "did not smile when [Robbie] walked into the room or hug her when she visited her. This youth was suffering from mental health issues and was angry at the world." Her mother did not know how to handle her behaviors, turned to substance abuse to cope, and which led to chronic neglect of her twin boys, and eventually them being placed into foster care when she was incarcerated. Once significant trauma was revealed, Robbie ensure[d] CORRECT intensive therapy was put in place at EVERY placement.Robbie was persistent in ensuring the mother had INTENSIVE parenting skills training to better equip her in parenting her daughter and sons.. Robbie was there to make sure that transitions did not move too quickly which led to the success for this family. Judge Burton explains,"I trusted Robbie's recommendations and without her work on this case, I just don't know [if] this family would have been successful."
Robbie makes solid recommendations and is respectful to all those she encounters. She has been known to "mentor parents as they navigate medication for their children or help parents navigate the educational system and help parents learn to advocate for their children," according to Ms. Sullens with FTC. Further, she "uses her experiences and intuition to help find what help parents need for their childre. She does it beautifully and graciously"
Robbie supports the CASA program outside the CASA role by speaking at Information Sessions and Expert Panels to potential new volunteers, and assists with fundraising or special events. Additionally, she consistently serves 5 cases at a time.
Robbie also volunteers in the Clothing and Toy Center (CAT Center) located in the lower level of the CASA Office. She is one of three volunteers, and we call her the Head Elf. The CAT Center is open to foster parents, relative caregivers, DFCS staff and CASA Volunteers every Wednesday from 10am-2pm, but the CAT Center volunteers spend many hours sorting donations, cleaning donations, planning, organizations, and cultivating partnerships. In the last two years Robbie has cultivated partnerships with the North Georgia Diaper Bank to have a constant supply of diapers and wipes available, and Jambos who provide comfort to children in foster care by providing pajamas. The CAT Center not only benefits the children who are assigned a CASA, but also provides needed items to others involved with Juvenile Court, Family Preservation cases, Family Treatment Court, relative caregivers, foster families, biological parents preparing to reunify with their children, and families interacting with the Edmonson-Telford Child Advocacy Center (with whom we share a building). According to Rebecca Davidson, Social Service Administrator in Resource Development, Robbie is "always willing to try to work with a foster parent's schedule to make sure that children get what they need."
Join us as we celebrate Robbie McCormac, and express our gratitude for all she does to help change a child's story.