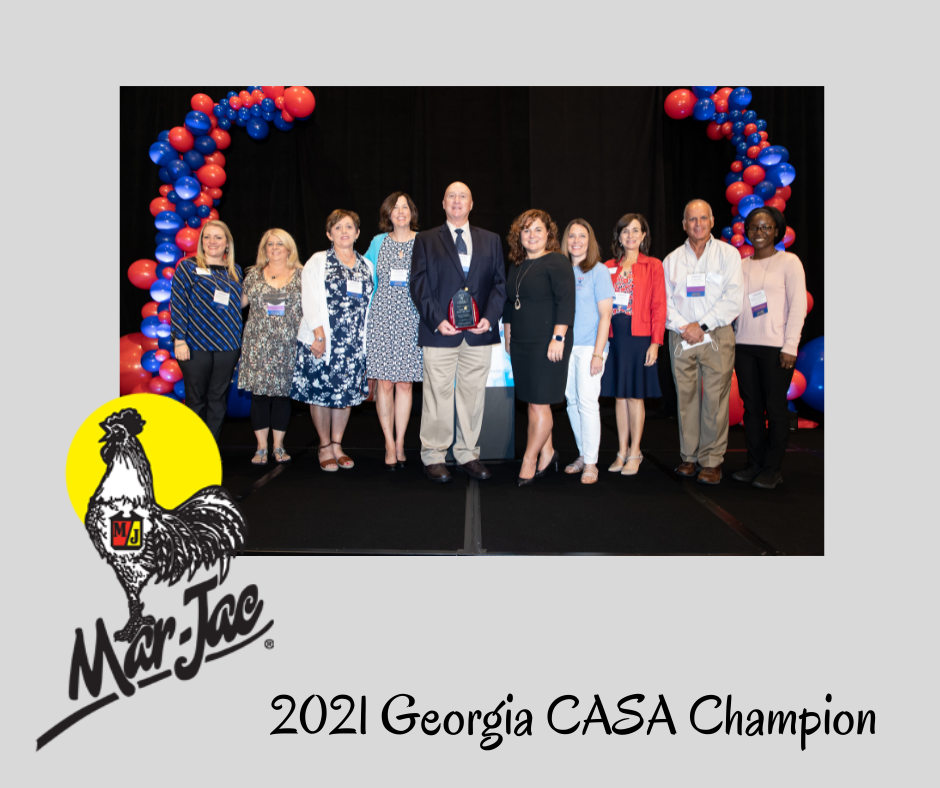 It was such an honor to stand on the stage at the Georgia CASA annual conference with Mar-Jac Poultry Company representative Joel Williams and his wife Pam as they received the 2021 Georgia CASA Champion Award. Nominated by our local Hall-Dawson CASA affiliate, Mar-Jac was selected from nominees across the state as this year's award winner. The CASA Champion Award was established in 2021 to honor an outstanding individual or organization in Georgia who champions CASA advocacy, demonstrates a strong commitment to CASA advocacy, and whose actions positively impact the advancement of the CASA mission in the community.
Mar-Jac Poultry has demonstrated over time their core belief to make a difference in the world through its community support and philanthropic endeavors. Mar-Jac encourages its employees to develop a philanthropic attitude to correspond with Mar-Jac's core values.
Mar-Jac beautifully models responsible and compassionate corporate citizenship in our community. "We are in the business to be profitable but we must be a good steward with those profits," says Joel Williams, Mar-Jac Poultry Vice-President of Operations. "Unfortunately, our country's value of children has eroded and it is heartbreaking. This is evident with the displaced children who are currently in foster care. CASA's mission to make a difference with these children perfectly aligns with the core values of Mar-Jac Poultry."
Mar-Jac Poultry stands as a model for others in our community. Williams says, "We truly want more corporations to take ownership to make a difference in their community and society." We are grateful to Mar-Jac for their commitment to Hall-Dawson CASA through their strong financial support and advocacy over the years.
Will you consider joining them in their support of our CASA program, empowering community volunteers who advocate for children who have experienced neglect or abuse? We need your help to serve children in our community.