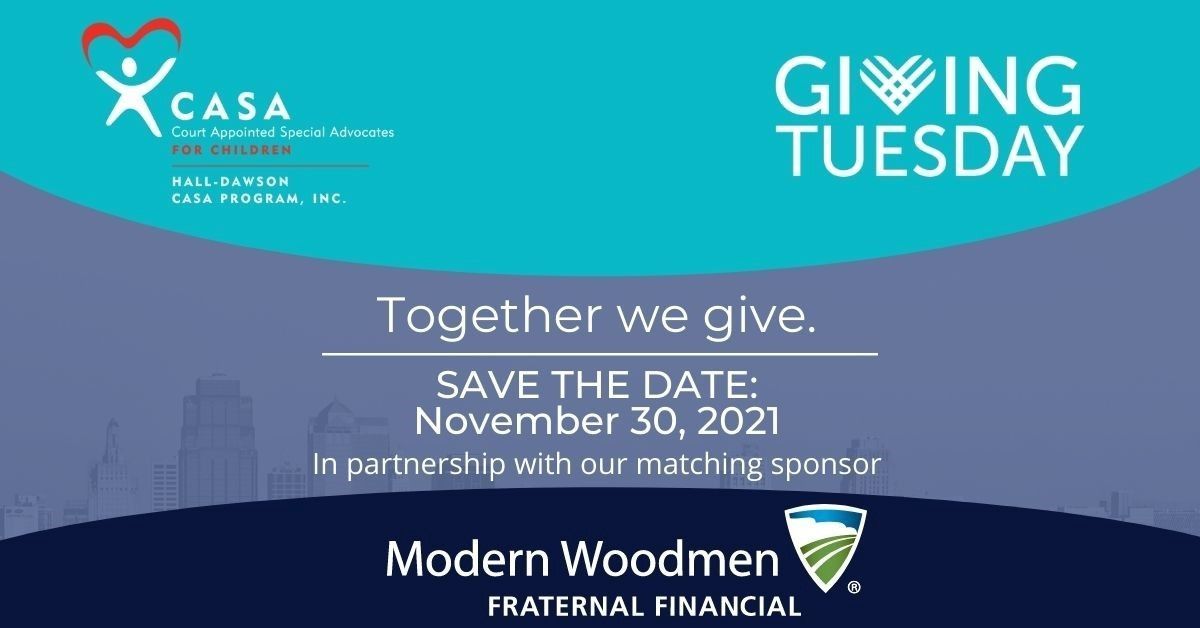 If you ask just about anyone in non-profit work here, they'll tell you that our community is among the most generous that can be found. Non-profit organizations like Hall-Dawson CASA exist to improve the lives of people in our community. We are not dedicated to private or financial gain but to the advancement of public interest. And our ability to serve our community effectively depends upon the support of our donors and volunteers.
Many of you are like me: it's really hard for me to say no when I'm asked for help. There have been times when I've reluctantly agreed to a volunteer role, and when the time came to fulfill it, I did so begrudgingly – out of a sense of duty, rather than because I really wanted to at the moment. Yet, I will say that – almost without fail – when I have served others, I have gotten back so much more than I gave. I hear this constantly from the CASA Volunteers I am honored to know. The choice to make a difference in the life of a child who is hurting or lonely or afraid, brings fulfillment and joy to the life of the Volunteer who makes that choice.
Philanthropy is defined as the practice of giving money and time to help make life better for other people– and philanthropy is alive and well here in northeast Georgia. Helen Keller said, "Alone we can do so little; together we can do so much." We each have an opportunity to make a difference in our community – to make it better. GivingTuesday is coming up on Tuesday, November 30. This is a global generosity movement unleashing the power of radical generosity. (Don't you love that idea: radical generosity?!) GivingTuesday was created in 2012 as a simple idea: a day that encourages people to do good. Since then, it has grown into a year-round global movement that inspires hundreds of millions of people to give, collaborate, and celebrate generosity. An estimated $2.47 billion was raised in the United States during on GivingTuesday 2020, compared with an estimated $1.97 billion during GivingTuesday in 2019.
As we enter this upcoming season of gratitude and giving, will you allow the acts of giving and serving to enhance your life? How will you use your resources to impact your community? If you want to know more about serving children who are experiencing foster care, please reach out to us here. If you'd like to support the vital work of our volunteers through a financial donation, your gift will be used to serve our community's most vulnerable children. Whatever you choose to give, you'll be making a difference in your own life and others' lives your community.