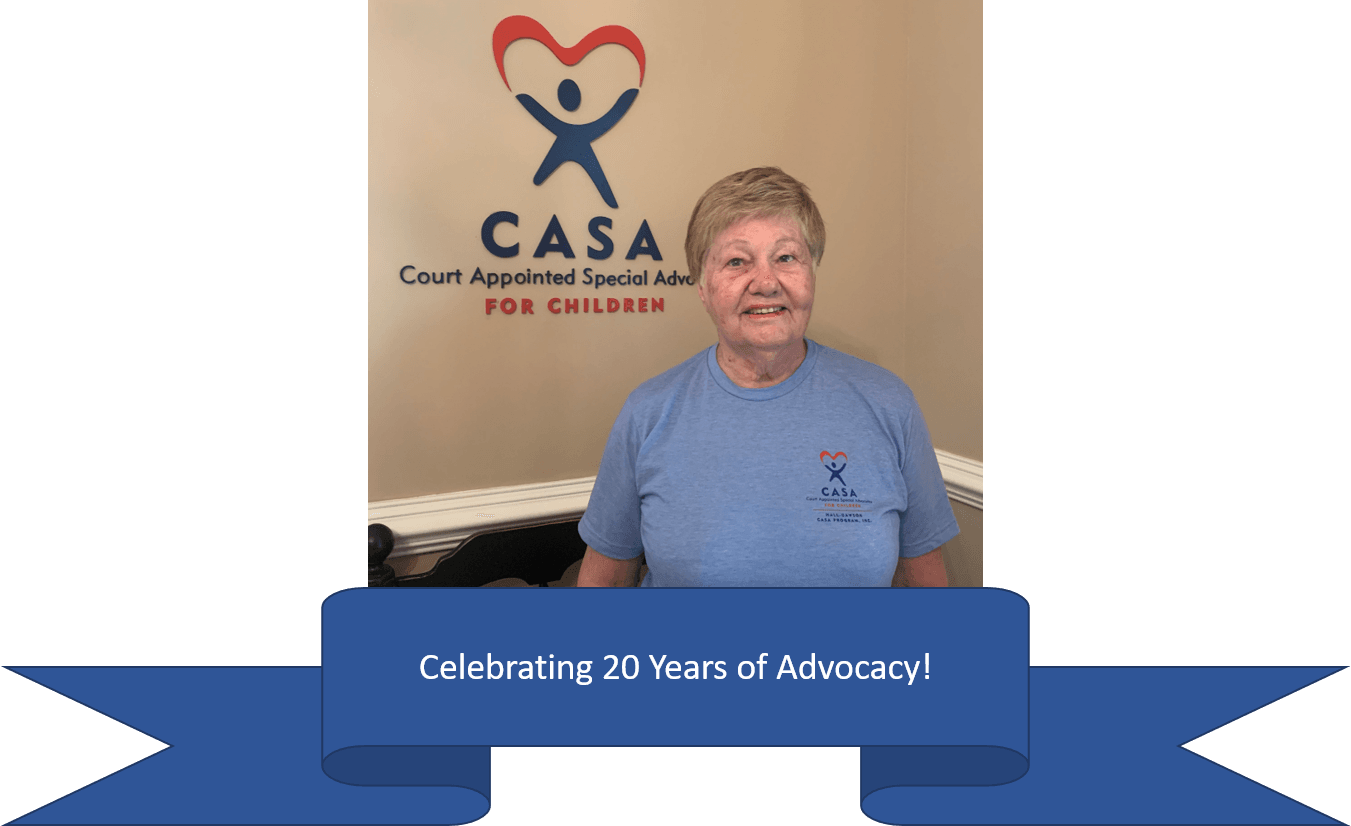 This past week, our CASA program experienced a milestone that many programs are never able to claim – we celebrated a volunteer at her 20-year anniversary of being a CASA! This is an incredible milestone for her, our program, and the nationwide CASA family. We have introduced Dian H. on social media before, but want you to hear about her again.
Dian H. first began serving as a CASA in Austin, Texas in 2001. She served in Austin for many years until moving to Georgia in 2013 and quickly resumed her CASA volunteerism at Hall-Dawson. Funny thing – when she started volunteering in 2001 is that CASA was not even her first choice of volunteering opportunities!
Dian stated she has always believed people should give something back to the community if they have the free time to do so. She saw a CASA recruitment advertisement in a newspaper in Austin, Texas, contacted CASA, and the rest is history. Apart from helping a child and family, she enjoys the ability to be creative and collaborate with those involved in child welfare cases. There is not a cookie cutter answer to solving the issues of child trauma, abuse and neglect, substance abuse, or any of the issues a CASA will encounter. However, Dian is adept at asking questions, being persistent, gathering information, and ultimately equipping the Court to make decisions on a child's best interest.
In telling her story of being a CASA, Dian shared about the two children on her very first case back in 2001. This was a brother and sister, 12 and 13 years old at the time she worked with them. She shared of their journey towards permanency and the many bumps along the way, how she supported them in foster care and mentored them after, and how she is still in contact with them today. The brother's life is more stable today than his sister's probably ever will be, BUT Dian made a mark in their lives and they made a mark in hers. Even last week, she shared through tears of the sister's ill health and the brother's commitment of making sure Dian knew. Forever linked by CASA.