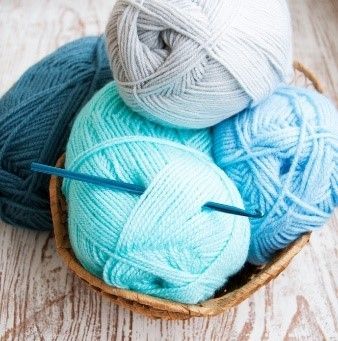 I come from a family of ladies who spent hours crocheting.  My great grandmother, Mary, was famous for her afghans.  I still remember the pink chevron afghan that covered my bed as a young girl.  My Aunt Katie graced every new baby with a baby blanket and kept track of her stitches on a scrap piece of paper.  My grandmother spent hours counting stitches.  I loved to sit with her, take a new skein of yarn and roll it into a ball.  To this day, I could sit for hours and roll yarn.  It is calming and takes me back to long conversations full of wisdom.  In those moments, my grandmother made me feel like the most important person in the world.  
I've taught myself how to read patterns and my crochet skills have improved, but honestly, it was never about the final product.  Crocheting, for me, is about memories.  It's the story behind the pink afghan, the Fall poncho, the doll clothes.  It's the story about how I used to sneak into Aunt Katie's living room to watch her stitch away.  It's the story of time curled up on the couch next to my grandmother.  Those memories changed my story and taught me less about crochet and more about life.  I learned to be still, to observe, to be intentional and gained an appreciation for all things handmade. 
My story is stitched together with fond memories of three ordinary women.  Three ordinary women who never realized the forever gifts they shared with me and how grateful I am for the time they invested in a little girl eager for attention.  The blankets have worn, the Fall poncho passed on, but it is the memories, the stories I hold dear to my heart.  It's the stories that bring me comfort, the stitches that calm me, the rolling of yarn that makes me smile.
You do not need to know how to crochet to make a child feel like they are the most important person in the world.  You do not have to know how to put together a gourmet meal, build a Lego spaceship, fix a car or sing in a choir.  To Change a Child's story all you need is time and an open heart. 
Help a child experiencing foster care feel like they are the most important person in the world. 
Take an ordinary moment and create a lasting memory.
Change a Child's Story.
Join me for a one-hour Virtual Information Session on Thursday, January 6th @ 7pm-8pm or Saturday, January 8th @ 10am-11am and learn how you can support our mission to serve abused and neglected children in our community.
The registration portal is open.  Click here to reserve a seat.
For additional information contact me at tracy@halldawsoncasa.org or visit our website https://www.halldawsoncasa.org/.