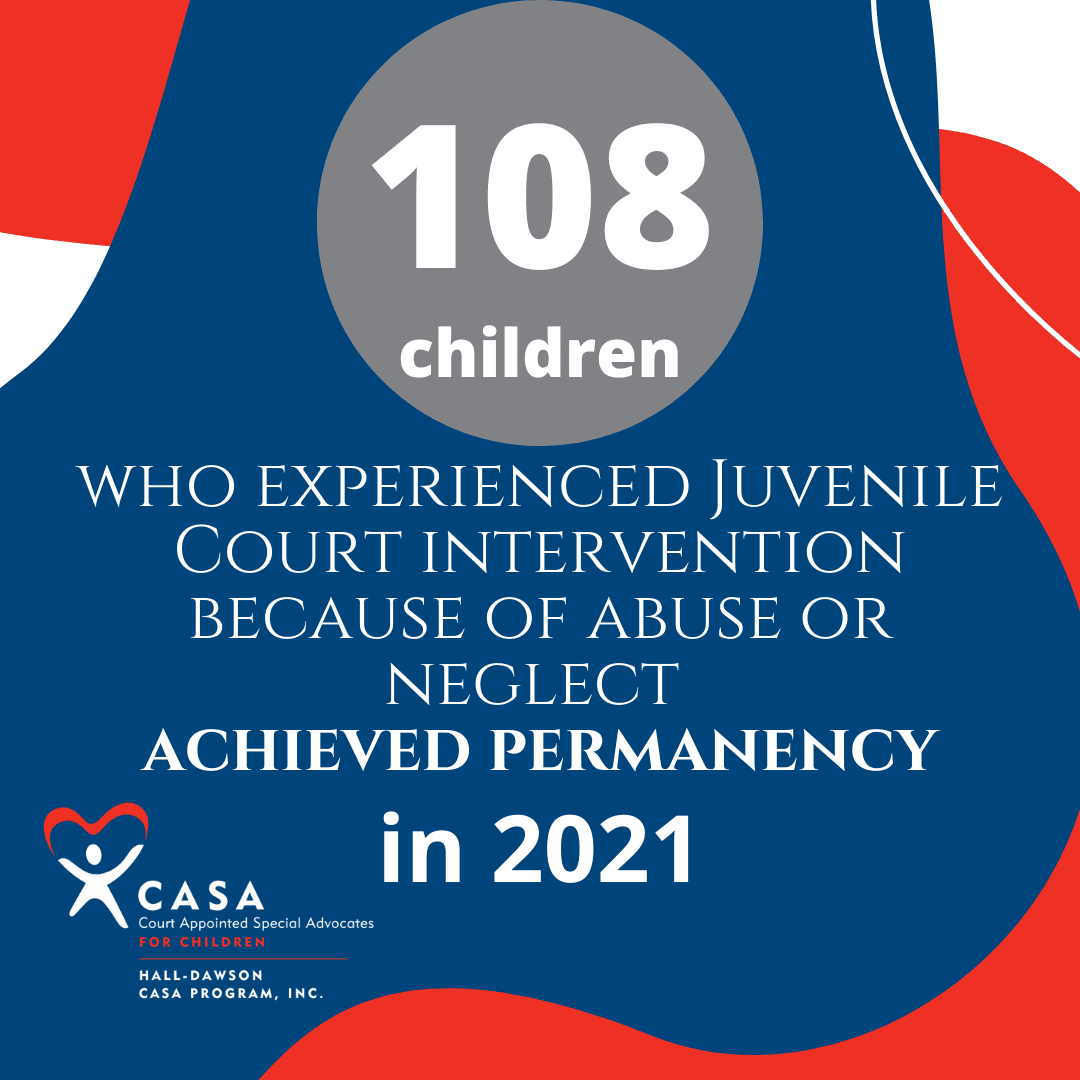 Often my work involves the numbers, and often I am more involved with a budget, a spreadsheet, and a grant report than the children and families we serve. Still, what I know is behind every number there is a child, a family, a promising future. And a CASA Volunteer who sees, hears, and advocates for what is in the best interest of that child. In the Juvenile Courtroom, in the schools, and in the community.
Just last week, our program celebrated as a mom received the key to her new apartment, and the community stepped up to help her with the essentials so she could welcome home her three teens. And a CASA Volunteer who stood next to two children who had experienced foster care for more than two years as their adoption became final. Permanency. It is such an important piece of what we do.
As I have mentioned previously, our youngest daughter and her husband have three children entrusted in their care as the children experience foster care. A few weeks ago, I learned of a new designation I have earned. There was no degree conferred. No award ceremony or trophy given. When working with their therapist, the children were asked to list people with whom they feel safe. I made the list. As my daughter shared this information with me, my first thought was, of course, I made the list. Why would I not? And then nearly as quickly as the first thought emerged, the second more sobering one arrived. When trust is broken, especially in the life of a young child, healing needs to take place. This healing takes time and in this case is guided by an experienced therapist. In the quick few minutes my mind traveled the distance between my first reaction to my second more sobering thought, my heart was broken knowing the work ahead of these precious children, and my heart was full knowing I can be a part of that healing.
It is times like these in front of numbers. And in the midst of stories that I simply pause and am thankful for this small part I get to play, and the amazing people who surround me doing this important work, of this life I get to lead.
Today, as the folks at Sesame Street might say, is sponsored by the number 108. Today I celebrate the lives of 108 children who, with the help of their CASA Volunteer, achieved permanency. 108 children who experienced Juvenile Court intervention because of abuse or neglect have been reunified with their family, adopted into a new forever family, or have been placed in the legal guardianship of a caregiver.
Today, I celebrate 103 CASA Volunteers who have chosen to do this work. Those who have made child advocacy a priority in their lives, have made time to build relationships with children, have conversations with biological parents and foster parents, have advocated for needed services for children and families in the school and community, and have helped to transform a child's chaotic present into a promising future.
The child welfare system seems both overwhelming and mysterious for one standing on the outside looking in. What a beautiful gift to celebrate when a community volunteer steps up to say, "Count me in."