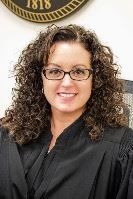 "This hearing will be held by Zoom," a phrase that was never spoken prior to March of 2020, and yet today, it has become the norm in our dependency cases.  I have had thousands of Zoom hearings over the last two years – all starting when we were told it was not safe to bring anyone into the courthouse on March 20, 2020.  Juvenile Courts, however, can't stop, or even take a short break – the issues that we are presiding over in dependency cases – the safety of children cannot wait.  Hall and Dawson Counties worked hard to immediately answer the question, "how can we safely have court?" and because of the Uniform Juvenile Court Rules – the answer was – by video conference.  And so started the era of Zoom hearings.
Zoom hearings have their positives and negatives.  On the positive side, over the last two years, we have seen increased participation in hearings by parents, foster parents, children and CASA volunteers.  Parties were no longer held hostage in the hallway waiting sometimes hours for their hearing to be reached.  CASA volunteers can participate by just taking a break from their job when their assigned case is called.   Foster parents and children don't spend hours in the car traveling to and from the courthouse for a hearing.  When zooming with a child, I can literally see into their world – see the foster home they are living in where the foster parent purchased them a monogrammed pillow so they would feel more at home, see the pet fish, dog, cat or even lizard.  Children open up more when they feel safe, and testifying from home is often easier than sitting on a witness stand in the courtroom. 
But I miss children in my courtroom.  The coloring books have faded and the markers have dried out.   My crayons go unused.  No one has played with blocks or Legos for 2 years.  I was always able to conduct a hearing with children chatting, giggling or even fussing in the background.  I miss those sounds and really getting to interact with the children whose lives I make such big decisions about.  The hearings I have by zoom are equally as important despite not being conducted in-person.   We have definitely seen individuals take a more "casual" approach to Zoom hearings – by the way they dress (or in a few instances, don't dress) and by the things they say.  I am confident certain parents would not have had the outbursts they did if seating in a courtroom setting.  And I'm 100% certain people wouldn't light up a cigarette while sitting in front of me.   With all the positives seen from Zoom hearings, Zoom won't go away even when we are allowed to bring "large calendars" back into our small courtrooms and narrow hallway.  We will continue to use Zoom to allow foster parents, children, and CASA volunteers to participate when they just can't come to the courthouse.  But I am hoping that I'll have children back in my courtroom to give the occasion hug when needed very soon….