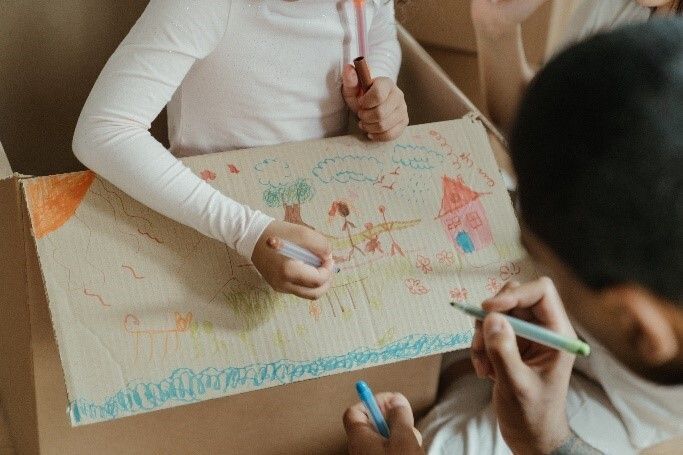 I recently came across my Kindle nestled in a dresser drawer.  Although I have not used it in a while, it is one of my most treasured gifts.  I received if for a milestone birthday several years ago.  It never occurred to me that my family took note of my love for reading and I recall how I felt the moment I opened it, pure joy. They noticed. They intentionally chose the perfect gift. The Kindle reminds me that I matter, that my family knows me, and what brings me joy. They knew I would covet downloading new books and spend endless hours curled up soaking in a new novel. 
A doily that belonged to my grandmother, a canvas of my dad's favorite place on earth, a handtied rag rug that lives in my art studio sent from my mother, a filigree gold bracelet, one of the first gifts from my husband.   A few things I treasure most.  They are reminders of special people, favorite places, and my adoration for delicately homemade gifts.  What do they all have in common?  They were gifts from people who love me most, who consistently recognize what makes my heart happy and who are a phone call away when I feel homesick. 
The gifts are special, but it is the memories they invoke that lift my spirit and make me smile.  They are reminders that material things do matter, not their value in terms of dollars, but their sentimental value.  Some of them have a story, mark a special occasion or remind me of the person behind the gift.  They are the "things" that will always make it into a moving box, will be passed to others and mark a moment in time.    
What are the treasures you hold close to your heart?  Trinkets from days past, gifts marking special occasions, a hand written note or maybe something practical from a loved who knows you oh, so well.  Your family? What do you have that will always make it into a moving box or be passed to loved ones?  
On average, a child experiencing foster care will spend 18 months in the child welfare system and is, on average, displaced five times during this period. I often wondered if they have time to pack their trinkets and treasures.  Do they have time to pack their favorite book, blanket, pair of shoes or family photos?  Are they able to tuck away the things that remind them they are loved? Will the trinkets and treasures be where they left them, waiting for their return? 
Abused and neglected children experiencing foster care often leave behind their trinkets, their treasures. To no fault of their own, their family.   More times than not there is no moving box, but a backpack or small suitcase with a few essentials.  Sometimes, there is no suitcase, backpack or essentials.  Imagine the sense of loss.  Loss of family, loss of home, loss of the things that make them smile.  The loss of sentiment replaced with a hole in their heart, a tarnished memory, a sense of loneliness.    
Our goal at Hall-Dawson CASA is to provide children experiencing foster care with a CASA Volunteer who will advocate for their best interest.  A CASA Volunteer cannot replace trinkets, memories or family left behind, however a CASA Volunteer can be the consistent adult who shows up with intention.  A CASA Volunteer can ensure children experiencing foster care are safe, protected and have what they need to thrive. A CASA Volunteer helps the child or youth keep healthy connections to the people who matter most to them, and helps the build a community of support around each child.
Please click here to learn how you can help children experiencing foster care know they matter.