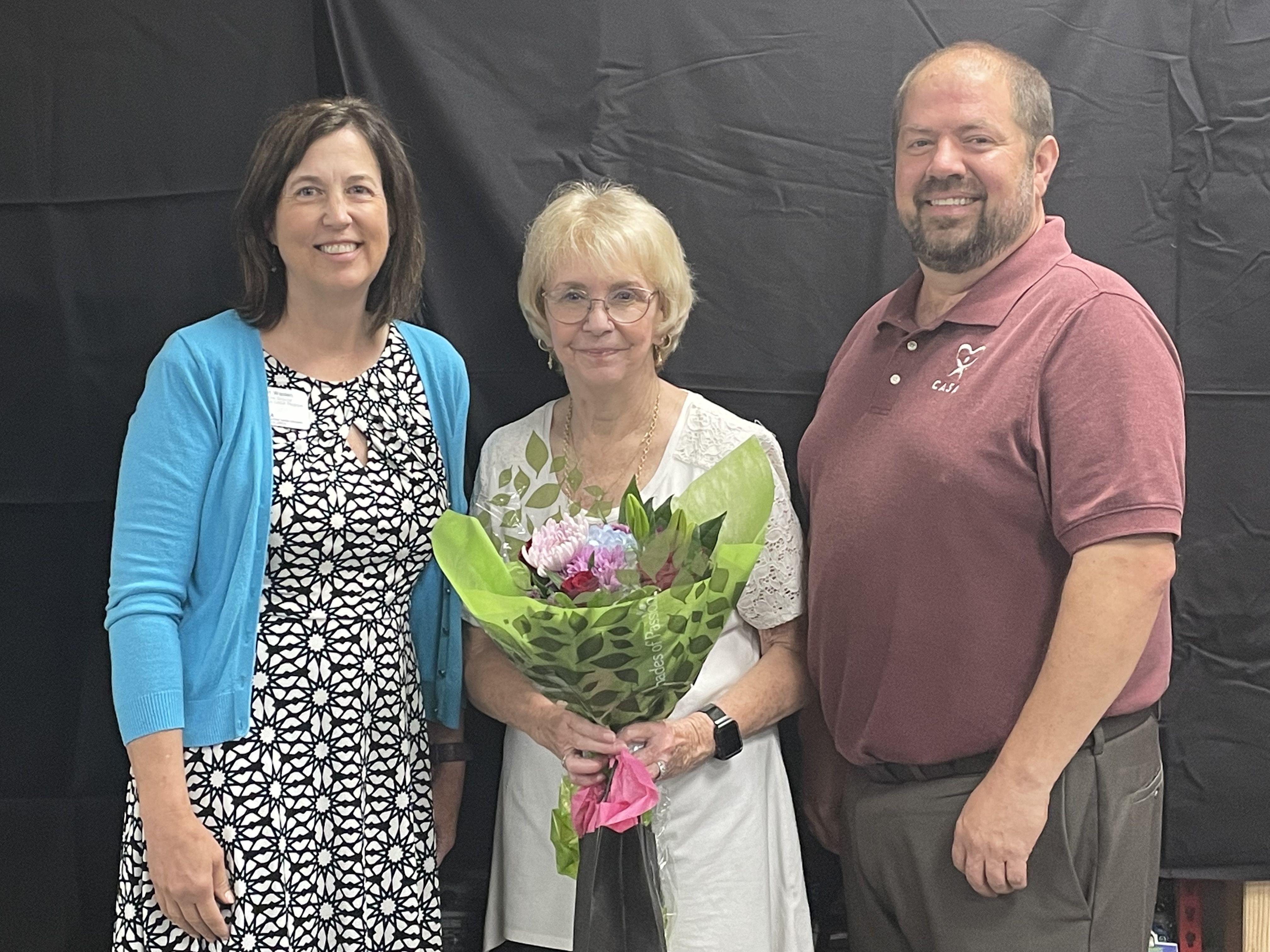 Each year, Hall-Dawson CASA selects and recognizes our Volunteer of the Year. This award recognizes an outstanding CASA volunteer who has made significant contributions in helping children who have experienced abuse or neglect. This year, our CASA Volunteer of the Year is Gail Lombardo. Congratulations, Gail! Gail was sworn in with the Hall-Dawson CASA Program in April, 2017.  During her five years with our program she has served 32 children on 20 different cases.
Gail is a strong advocate who partners with the placements, families and other agencies involved in the case to ensure children's needs are met. DFCS Supervisor Sarah Swann says, "I've had the pleasure of working directly with Ms. Lombardo and have witnessed her consistently go above and beyond in her advocacy for the families she serves. I know a family has a greater chance of success in their case plan, their child's well-being, partnership and support when Ms. Lombardo is appointed to the case."
Gail's strengths are her "eye for detail and her pragmatic intellect," shares Hall-Dawson CASA Advocate Supervisor Jason Hewett. Her court reports always provide great detail and information that assists the Judge in understanding the children's medical, dental, educational, mental health and other needs. Additionally, "the bonds she creates with her kiddos truly puts into practice the idea that all kids are one caring adult from success," Hewett adds.
Gail's skills are so well respected that when a case to which she is appointed closes, our judges often have another case in mind and request she be appointed. Her unflinching professionalism and critical eye, coupled with the familiarity she has with the family and all others in the case is pivotal in providing information and best interest recommendations for the judge to make good decisions for the future of children and families.
Early in Gail's CASA career she was appointed to a teenage girl who had been removed from her family after they failed to protect her. The youth came into the system with a lot of trauma and feelings of abandonment by her family who, due to criminal proceedings, could not visit her. Over the course of 2 ½ years, Gail became one of the consistent adults in this youth's life. She advocated in court for services for the youth to address her previous trauma and other mental health concerns. Gail was there as the youth's level of care increased and fought to ensure services were provided resulting in her level of care being decreased, and her to return to her previous group home. Gail was there as the youth identified an adult she trusted, and was there to develop a relationship with this family and advocated for their approval as placement, a place where the youth felt "home." Gail stood by her side the entire 2 ½ years. There were late night calls as she navigated friendships, planning prom night, processing feelings of loss of her family and joy and uncertainty moving into a new family. Gail was able to see this youth obtain permanency through adoption, but more so she was able to see this youth "grow and mature into a lovely young lady."
Gail shared, "CASA volunteers are an actual community and, as a CASA, you will meet such talented, giving people that you really feel that almost every problem that arises while you interact with parents, grandparents, aunts and uncles can be worked out or solved with the help of your community." She lives this out as a volunteer in our CAT (Clothing and Toy Center), spending time sorting donations and assisting local foster and biological parents involved in the juvenile court system with clothing and other care items for their families. You will often find Gail encouraging others – CASA volunteers, foster parents, biological families.
Gail is a gift for our program and our community. She exemplifies what a CASA is called to be: a fierce advocate for the children she serves. Thank you, Gail!