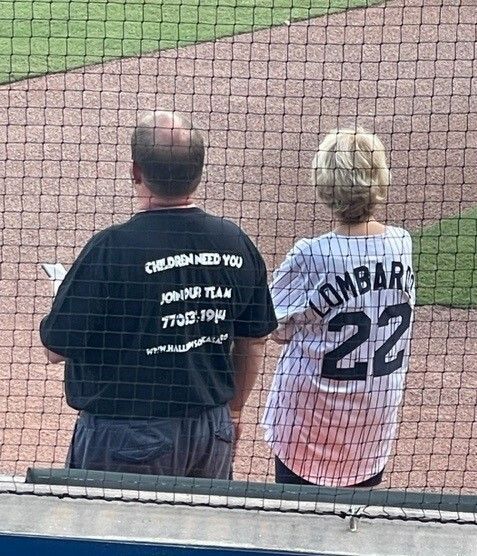 Last week I ran into my friend, Ruth. We met a dozen or so years ago when I began my journey with CASA. I was new to the program then, and she was a CASA Volunteer. It is difficult to imagine that six years have passed since my time with the CASA program in Forsyth County, which is where my journey began and where I first met Ruth. Time, I find, is a funny thing. When Ruth and I embraced in the biggest hug ever, the years seemed to fall away, and I found myself right where I was some dozen or so years ago. I remembered the times sitting in court with Ruth, the children and families she served, the tough conversations and the celebrations. All of the important work we did together. I suspect Ruth felt the same.
When John and I moved to Georgia in 1992, we spent our first wedding anniversary unpacking boxes. It's funny how today I still see the young sons of my former boss as the middle schoolers I met during that time, even as time has passed and both are now grown and with families of their own. Though our lives have moved on, my mind somehow keeps a space for and does not allow for those around me to do so. Social media allows me to follow and keep up with those who have crossed my path along the way of my life. It seems to me, though, those key junctures in life have a way of freezing time. Perhaps, if only to point to the significance of what is happening around me.
Last month, the Hall-Dawson CASA program celebrated a CASA Day at the Gwinnett Stripers game. It was a time of good food and fellowship with our CASA volunteers, board member, staff members and our families and friends. As a bonus, our 2022 CASA Volunteer of the year, Gail, was invited to throw out the ceremonial first pitch of the game. The next day as I was looking over the photos of the evening, the one posted here is the one that captured my attention – the photo of Gail and her Advocate Supervisor, Jason near the on-deck box standing on the grass of Coolray field.
It seems as we talk about CASA, and what it means to be a CASA volunteer, and what a CASA volunteer does, and what the commitment is for a CASA volunteer, we sometimes fail to highlight what this photo highlights for me. Every CASA volunteer has an Advocate Supervisor who helps guide their work, empowers them to do the work, and supports them in so many ways. I suspect neither Gail, nor Jason could have imagined their journey together would lead them to a ballfield, and Gail stepping onto the pitcher's mound (spoiler alert: she threw a perfect strike), but the nature and beauty of the relationship between CASA and Supervisor is one that would not have her doing so alone.
The late author and theologian Frederick Buechner once said, "one life on this earth is all we get, whether it is enough or not enough, and the obvious conclusion would seem to be at the very least we are fools if we do not live it as fully and bravely and beautifully as we can." This day I am reminded that the relationships in my life that hold the most depth, the times that seem to stand still, are those with people I have encountered when I was stepping out of my comfort zone and into something important. Thankfully, in those times there were fellow travelers who met and guided me along the way.
Today my heart is full of gratitude for those I call family, for that is what happens when one chooses to be a part of the CASA network. Those who bravely and beautifully step out of their comfort zone to advocate for children and youth who are experiencing foster care. Just as Ruth and I know, and Jason and Gail know, and countless others (including those CASAs cheering in the stands as Gail stepped onto the field), though the work we do is not always easy, in this CASA family, there is always someone who has your back. And that is something to celebrate.