CASA volunteers are ordinary citizens with extraordinary hearts.
CASA Volunteer Training
We are seeking community volunteers to train with us to become child advocates. There are over 330 children in foster care in Hall and Dawson counties. You can make a difference in the life of a child by volunteering. Our next training session will begin on February 11, 2020 at our CASA office. Training will run for 5 consecutive weeks, meeting each Tuesday and Thursday from 5:30 p.m. to 9:30 p.m. with a one hour Swear-In Ceremony to be scheduled on March 12, 2020. Ten hours of court observation are required.
Location: The Little House, 603 Washington St SW, Gainesville, GA 30501.
Light dinner will be provided. Please contact Heather White, Program Coordinator, if you are interested in attending. Phone: (770) 531-1964   Email: halldawsoncasa@halldawsoncasa.org 
You must register for this training. Click HERE to register.
If you would like to attend our upcoming Information Session to learn more about this volunteer opportunity before signing up for the next training, we will meet on Tuesday, January 14, 2020. Drop in from 5:30 p.m. to 7:00 p.m. at the Little House. Light refreshments will be provided. Click HERE to RSVP.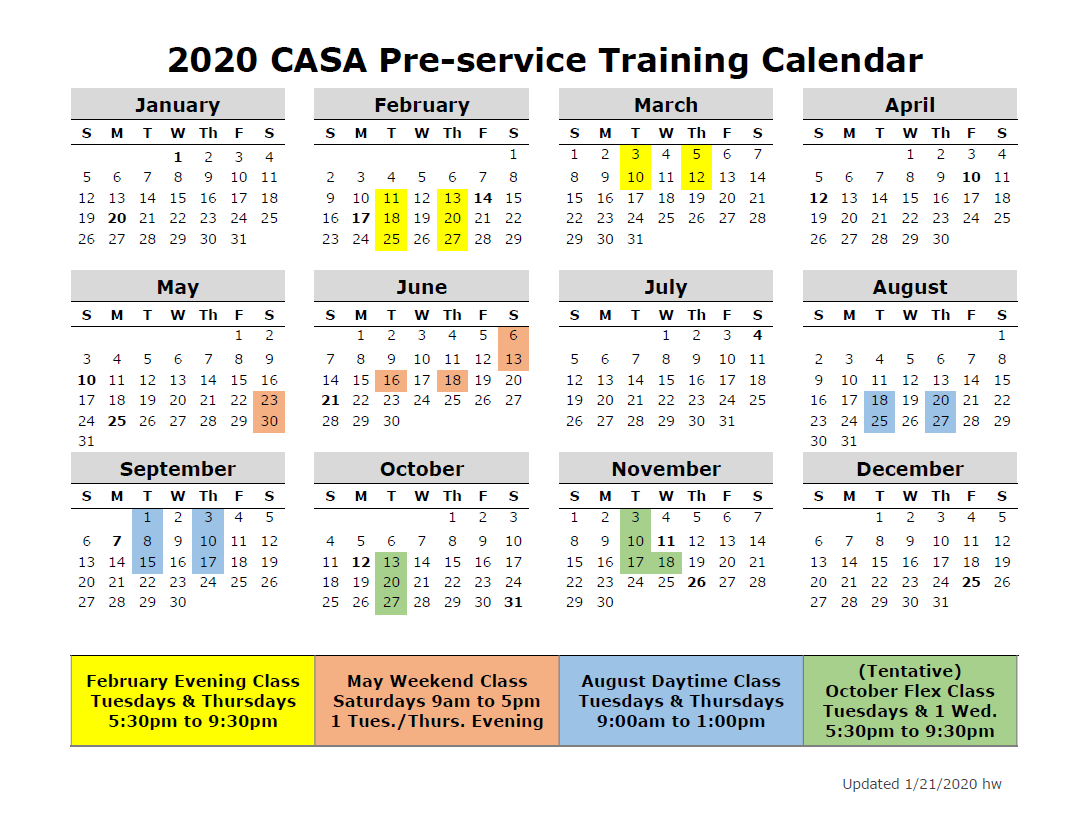 After completing your application please return to us by mail, fax, or email:
P.O. Box 907471 Gainesville, GA 30501-0908
Fax: (770) 534-5851
Email: halldawsoncasa@halldawsoncasa.org 
Volunteers are screened closely for objectivity, competence, and commitment.

Volunteers are provided with all the necessary training materials.

No special or legal background required. Outside speakers, as well as staff and volunteers work together to make our training sessions educational, interesting, interactive, and practical.
CASA Volunteer Description
Purpose
A CASA volunteers his/her time to promote and protect the best interests of abused or neglected children in court proceedings, the social service system, and the community. 
Qualifications
Successful completion of the 40 hour training program and it's requirements
To undergo a criminal background check which includes fingerprinting
To complete a personal interview with the training coordinator
To commit at least one year to the program and to take at least one case
To maintain 12 hours of in-service training each year
To have the desire & heart to advocate for the best interests of abused and neglected children
Fluency in the English language
Bilingual in Spanish would be a plus
To be 21 years of age or older
Must supply four references
Cannot be currently employed by the courts or the Department of Family and Children Services.
Our trainings are offered multiple times each year. If you are interested in joining us, please call our office 770-531-1964 and we will send you an application, or you can download the application, fill it out and send it to: 

P.O. Box 907471 Gainesville, GA 30501-0908
Duties
To successfully complete the requirements of the CASA training program and screening process
To ensure the child's best interests don't get overlooked while in protective custody
To ensure that the child is placed in a safe, nurturing, permanent home as quickly as possible
To gather information in order to establish the facts and circumstances of the child's situation
To actively pursue a safe, permanent placement for the child
To maintain strict confidentiality with all information related to the child and their families
To provide written reports of findings and recommendations to CASA staff prior to court hearings and panel reviews
To communicate regularly with CASA staff about the case and the advocacy steps taken to ensure the best interests of the child are represented in court
To maintain a focus on each case until permanency is achieved, assessing the progress of the case, advocating for a permanent solution and reporting problems or noncompliance to the court
To maintain genuine care and concern for the best interests of the child
CASA Volunteers will monitor the safety and well-being of the children.
CASA provides home visits to the children and families.
CASA monitors the court order for compliance and non-compliance.
CASA collaborates with service providers and others to ensure the children's needs are met.