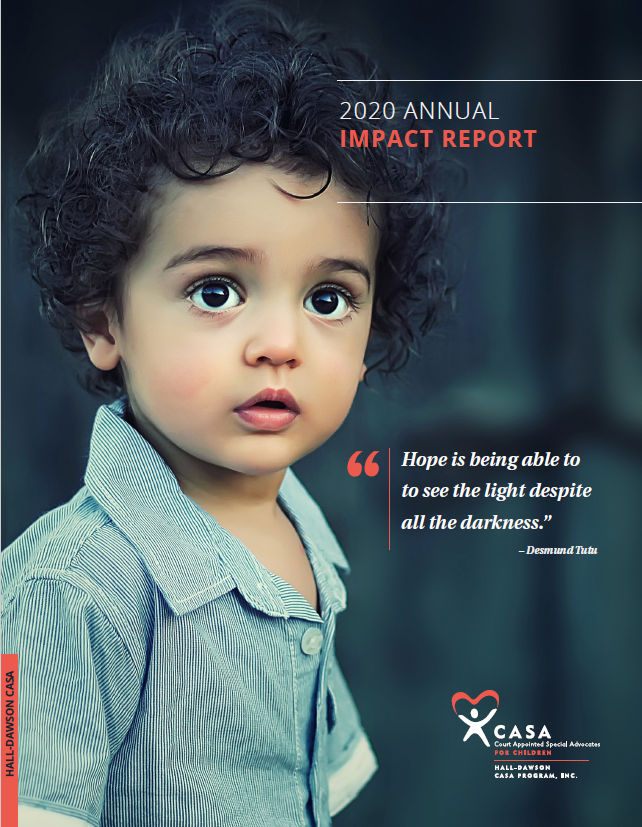 There are many reasons why people donate to charities and non-profits like Hall-Dawson CASA.
They experienced foster care as a child
They volunteer as a CASA
For recognition in the community
It's part of their family culture
Donating gives them fulfillment
A friend asked them to
There does seem to be an overarching theme to giving in the United States: where there is a need, people step up.
The Blackbaud Institute just released the results of their study and analysis of 2020 philanthropic giving [1] and the results may surprise you. The study was based on findings from 8,333 non-profit organizations, totaling $40.7 billion in fundraising revenue. In a year of a worldwide pandemic that stretched our healthcare system and economy to the brink, multiple natural disasters, surging social movements, and a bitter political climate, charitable giving grew in meaningful ways. According to Blackbaud Institute's report, "In 2020, charitable giving in the United States grew by 2% based on careful analysis of $40.7 billion in donations… additionally, an analysis of $3.2 billion in online donations tells us that online giving grew by 20.7% compared to 2019."
The report shows that while giving dropped significantly during April, May and June of 2020 – smaller non-profits reported a 17% drop during that period compared to 2019 – philanthropic giving began to recover during the second half of 2020. It should come as no surprise that on-line giving (just like on-line shopping, restaurant orders, meetings and school) continued to climb higher. Online giving was up 36% in the second half of 2020 compared to 2019. 13% of donations came through online giving.
A few other interesting statistics of note from this 2020 study compared to 2019: the average gift amount increased from $617 to $737; the average online gift increased from $148 to $177; and donor retention rates showed improvements for the first time in many years.
Just like most every non-profit organization, at a time when Hall-Dawson CASA faced unprecedented challenges, our community stepped up. We are pleased to share with Hall and Dawson County communities our 2020 Annual Impact Report as a way to say "thank you" to our donors and volunteers. Because of these generous supporters, we were able to continue the pursuit of our mission: to ensure children who have experienced abuse and neglect have the right to a safe placement and permanent home.
And with the support of our donors and volunteers, we will continue to provide hope to the children we serve. We hope you will walk alongside us on this journey.
[1] https://institute.blackbaud.com/charitable-giving-report/