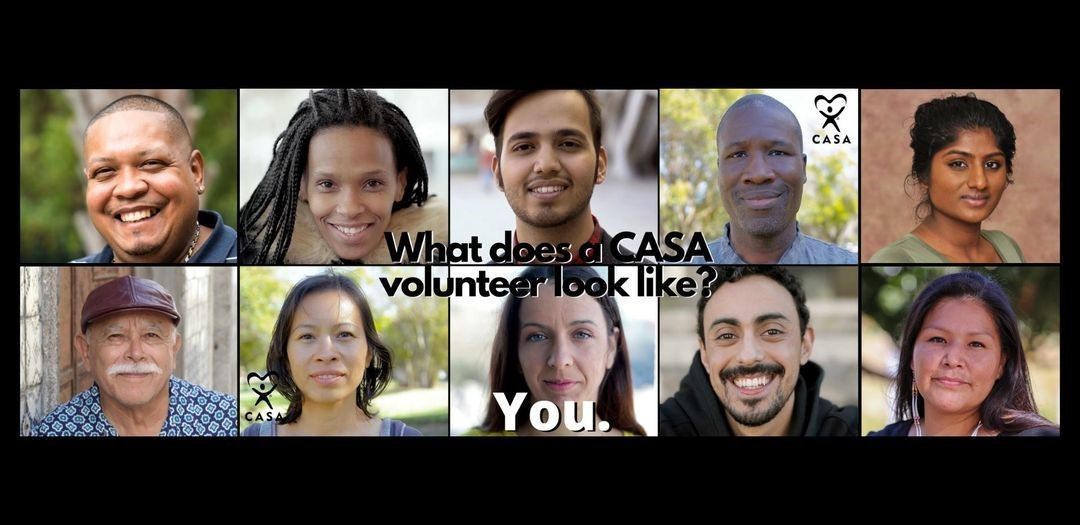 CASA Volunteer Inquiry
Please click HERE to inquire about how to become a CASA Volunteer.
For specific information regarding training cohorts, contact:
Tracy L. Verrigni
Volunteer Recruitment and Training Coordinator
tracy@halldawsoncasa.org or call 770-531-1964 
Key Components of the CASA/GAL Volunteer Role
Information Gathering
Carry out an objective examination of the situation including relevant history, environment, relationships and needs of the child.
Facilitation
Based on the information gathering process, identify appropriate resources and services for the child and family. In collaboration with your CASA supervisor, follow the referral procedure to initiate services. Coordinate with the services organization to expedite service delivery and move the case forward.
Advocacy
Speak up for the child by making fact-based recommendations regarding the child's best interest in a written court report.
Monitoring
Track the orders of the court and plans of the child protective agency regarding fulfillment of treatment and services plans for all parties. If parties fail to carry out plans, inform the court in collaboration with the child protective services agency.
Volunteer Spotlights
Meet Nancy N.

Meet Nancy N., a member of Women Working Wonders (WWW), an auxiliary women's group supporting Hall-Dawson CASA. Nancy has been a member of WWW for 11 years, and chairperson of the WWW committee for six years. In her work with WWW, which meets the tangible needs of children served by Hall-Dawson CASA, she focuses her time and efforts working with the group to make our children's lives seem as normal as possible in the midst of the changes that come along when children are in the court system through no fault of their own. Through annual dues, WWW members sponsor needs such as summer camps, after school activities, school supplies, birthday gifts, and other needs which are not otherwise met. Nancy remarks that even if the WWW group makes a small impact, she is happy to be a part of the impact. Her advice to anyone wanting to help the children served by Hall-Dawson CASA through membership with WWW is: "Try to be involved, even if minimal. It still counts. Our children need our support." Thank you, Nancy, and all WWW members who make our children's lives a little bit brighter!

Meet Debbie

Meet our wonderful CASA, Debbie. She joined our CASA family during COVID and immediately hit the ground running to advocate for children and families. When asked about her decision to join CASA, Debbie shared "I love helping children achieve their dreams and the CASA program allows me to do this. It's a privilege to be able to speak in court on behalf of my CASA kids and know my voice and their needs are being heard." Debbie works with Advocate Supervisor Jason who stated "Debbie came into CASA with the typical passion of all our volunteers but with a pragmatic sensibility that has made her an exceptionally effective advocate for her families. She is a problem solver who will tirelessly work every angle of an obstacle to quickly overcome it. She is an active, intelligent, and caring person and I count myself lucky to be working with her for our community." Debbie is an incredible gift to have as a part of the Hall-Dawson CASA family, but this is not an easy volunteer position to hold as it can be emotionally taxing at times. "Since I've joined the CASA program," Debbie shared, "I've been asked how can I deal with the situations these children are in, and my response is its easier for me to help a hurting child than to know children are hurting and I'm not trying to help." Every person can make a difference in the life of a child, and that's exactly what Debbie is doing!

Meet Dian

Meet our wonderful CASA Volunteer, Dian H. She became a CASA in Hall-Dawson in 2013 but first began serving as a CASA in Austin, Travis County, Texas in 2001. In November 2021 she will celebrate her 20th year as a CASA Volunteer!

Funny thing – when she started volunteering in 2001 is that CASA was not even her first choice of volunteering opportunities! Dian stated she has always believed people should give something back to the community if they have the free time to do so. She saw a CASA recruitment ad in a newspaper in Austin, Texas, contacted CASA, and the rest is history. Apart from helping a child and family, she enjoys the ability to be creative and collaborate with those involved in child welfare cases. There is not a cookie cutter answer to solving the issues of child trauma, abuse and neglect, substance abuse, or any of the issues a CASA will encounter. Dian is adept at asking questions, being persistent, gathering information, and ultimately equipping the Court to make decisions on a child's best interest.

In telling her story about CASA, Dian shared about the two children on her very first case back in 2001. This was a brother and sister, 12 and 13 years old at the time she worked with them. She shared of their journey towards permanency and the bumps along the way, how she supported them in foster care and mentored them after, and how she is still in contact with them today. The brother's life is more stable today than his sister's probably ever will be, BUT Dian made a mark in their lives and they made a mark in hers. Forever linked by CASA.