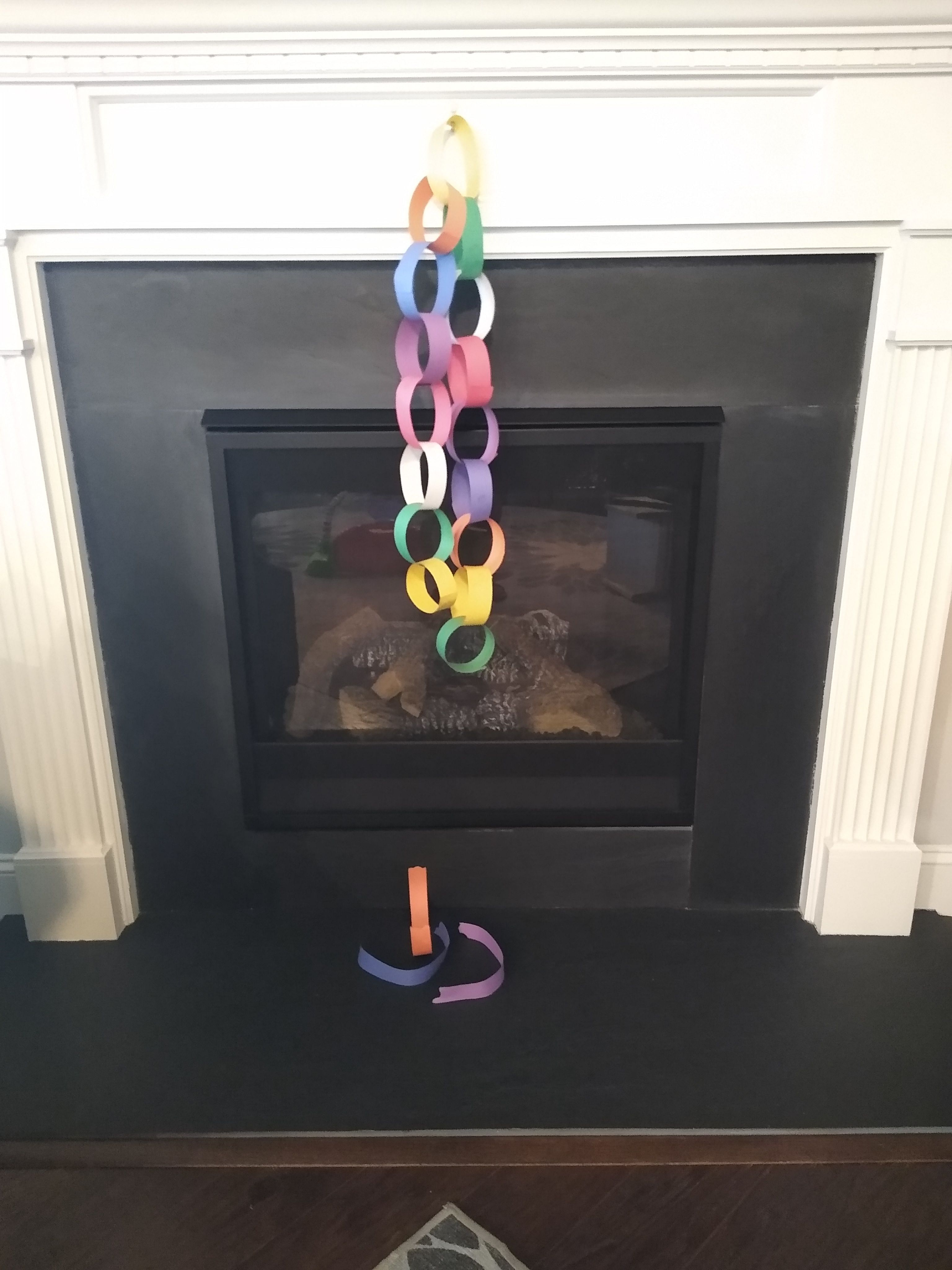 I was raised on paper chains. In my family, we counted down everything. The first day of school, the last day of school. Christmas day. Birthdays. The start of baseball season. As an adult, I recognize this as the brilliance of my mom. Can you imagine having six kids all under the age of eight, and what it must have been to manage the collective excitement of a big (or small) event coming up? The constant "how many more days…" She navigated this with a "I don't know, let's make a paper chain." When the paper chain was created and tending to it each morning did not stop the "how many more days…" With a paper chain created, her response changed to "I don't know. Why don't you go count them down?"
Paper chains. They are so good for looking ahead, anticipating what is to come. And whether tradition or habit, I still make a paper chain ahead of important (and not so important) events. I have one hanging from our fireplace right now.
I was looking at that paper chain this morning and thought about my morning routine. A fresh cup of coffee. Some time to read a bit, some time to write a bit. Then as I move to begin the day, I remove the bottom link from the chain. One more day closer to the big event. It occurred to me that my focus is on the number of links that remain. How many more days until… This morning I held onto that removed link at bit and shifted my focus on the day ahead, the day this link represents.
Perhaps it is the birthday lingering in the next few weeks, or maybe just the sense of the preciousness of time that has been on my heart these days. Getting older, I suppose has a way of changing one's perspective. These days my grandpa has been on my mind. I have been recalling how others remembered him to me at his funeral so many years ago. I was a freshman in college returning home for his service and was taken by how many folks had stories about him. So many folks I knew, but did not know their special connection to my grandpa. His wisdom, his kindness, the time he took to build relationships were the words I heard echoed that day. I was taken by how many lives he touched, the positive impact he had on so many.
A recent conversation with a dear friend has captured my attention. My friend shared the statement a friend of his shared with him about his late wife. "I didn't know Karen well, but every time I saw her she was smiling, and she always made me feel like the very best part of her day was running into me." What a tremendous legacy to leave, what an incredible model of being present, fully present, and valuing relationships in such a meaningful way.
This morning during my reading time, I was introduced to a 17-year-old recent high school graduate who experienced foster care on and off since her fifth-grade school year. In the picture accompanying the story was her silhouette holding her graduation cap, with the words she placed on top, "and she did it all without a single place to call home!" This morning I sat in the tension of the legacies of those who understood the importance of presence, and this young lady who experienced so much change and instability and felt so alone.
In 2015, Harvard's Center on the Developing Child (http://developingchild.harvard.edu/) released a study that affirms what I see each day, "every child who winds up doing well has had at least one stable and committed relationship with a supportive adult." Often it is the CASA volunteer who steps into this role and helps build a community of support around the child and their family. CASA volunteers who listen, are full of empathy and care, consistent and work to build relationships while advocating for the child's best interests in court and community settings. These qualities shared by my grandpa and my friend's wife are the qualities I strive to be and the qualities I hope to find in others to fill the role of CASA volunteer. The children in our community who are experiencing foster care deserve nothing less.