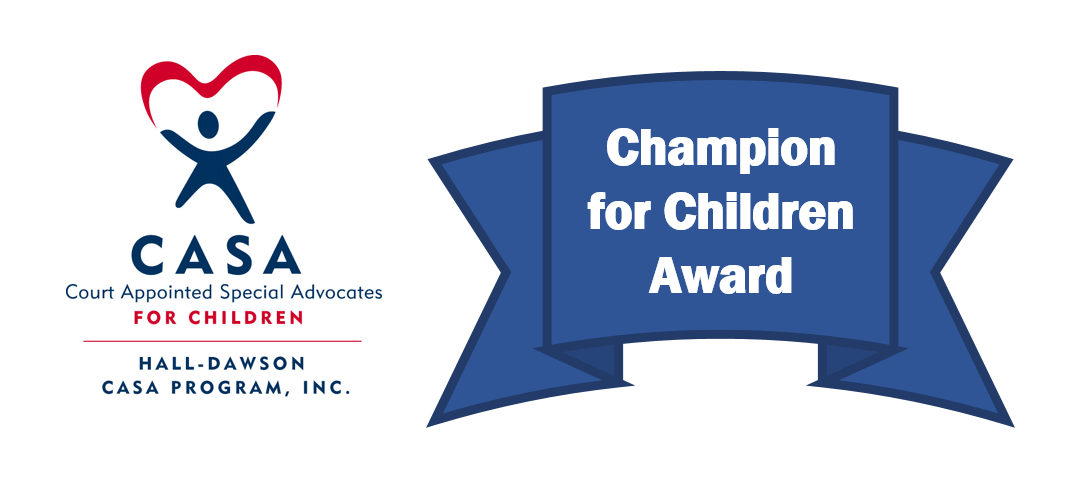 Purpose: Hall-Dawson CASA Program's mission is to ensure abused and neglected children have the right to a safe placement and permanent home. The Champion for Children Award recognizes the dedication and excellence of those individuals and organizations who invest their resources, in volunteer or professional service, to create a significant, positive impact on the lives of abused and neglected children in the Hall and Dawson County communities. The Champion for Children Award will be presented at our CASAblanca event on Friday, October 19, 2018.
Eligibility: Any individual or organization which has made a significant impact on the lives of abused and neglected children of Hall and/or Dawson counties, in any type of service, within the last 5 years may be nominated.
A strong nominee is a:
Champion for children, whose work characterizes the mission and vision of CASA;
Champion without compromise, acting and persevering in the face of challenging circumstances;
Champion who cares, seeking the best interests of the children in our care;
Champion with impact, envisioning and supporting solutions for the issues facing abused and neglected children;
Champion who stays the course, making a lasting contribution to the communities.
The deadline for nominations is Monday, August 27, 2018!
INSTRUCTIONS: 
Submit your nomination online in the fields below.
Answer the 3 questions in the space provided (OR) Upload your letter of support that includes the 3 questions. 
Click "Submit Nomination".